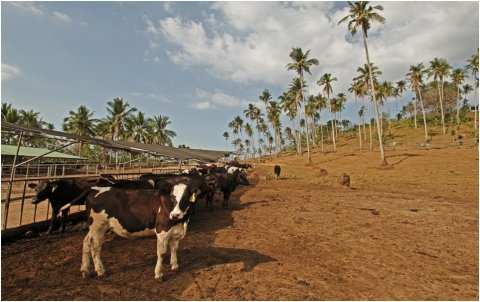 Hacienda Macalauan, Inc. (HMI) is a Philippine corporation and registered with the Philippine Securities and Exchange Commission in 1995 as a dairy farm entity, whose primary purpose is to operate a dairy farm and manufacture milk products and related dairy products.
The company was founded by its current President and Chief Operating Officer, Mr. Eduardo J. Soriano, who has been engaged in the dairy industry since his family operated San Miguel Corporation and Magnolia Dairy.
Farm operations began with just a handful of Magnolia dairy cows but quickly expanded into a small-scale dairy farm following the acquisition and importation of 100 heads of Freshian Sahiwals from Australia. It was in the late 1990's that HMI started its dairy processing operation. The plant initially processed liquid milk and cheese products, which include white cheese or kesong puti, ricotta and cottage cheese. These were delivered by reefer vans daily to Manila's exclusive subdivisions and villages thus earning its moniker"The Milkman".
Overlooking the scenic Mt. Makiling in Calauan, Laguna, today HMI's farm boasts several hectares of pasture land for its dairy herd, an automated milking parlor and a technologically advanced dairy processing plant.